Corrugated Moulds
A qualitative corrugated fibre cement sheet has been shaped on a corrugated high quality steel mould of narrow tolerances.  Produced with expertise and passion.
Description
Over the years Sitomeca has built up an extensive tooling library, which allows the company to manufacture over 35 different profiles.
Sitomeca therefore has extensive knowledge and is perfectly equipped to manufacture new profiles according to its customers' own specifications.
Quality
The tolerances are checked at each phase of the production to ensure an impeccable quality and an unmatched precision.
Additionally, a report of random quality controls is recorded for the customer. The results of the controls are compiled into a data sheet, indicating all measurements within the agreed tolerances. A copy of the data sheet is submitted to Sitomeca's customer upon shipment.
Sitomeca's first class European steel suppliers contribute to its concept of total quality. The quality certificate of the steel always follows the raw material from intake up to the delivery.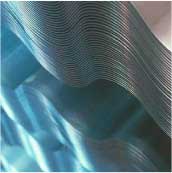 tolerances
dimensions
| | | |
| --- | --- | --- |
| Length | Max 6.500 mm | +3.0 / -0.0 mm |
| Width | Max 1.750 mm | +2.0 / -3.0 mm |
| Thickness | Max 3.0 mm | + / - 0.2 mm |
| Pitch | | +0.4 / -0.8 mm |
| Tot. Corrugation | | +1.0 / -2.5 mm |
| Pitch Height | | +1.0 / -0.5 mm |
Service
Sitomeca is committed to its customers and wants to offer the best quality service
1.
The already extended lifetime of Sitomeca's moulds can be considerably prolonged. Sitomeca is able to reprofile out-of-shape corrugated steel moulds.
The reconditioning of moulds is a valuable alternative to a heavier investment in new templates.
2.
Through Sitomeca's cooperation with the Belgian Export Credit Agency, it is able to offer financing facilities to its customers.The financing facilities create important advantages for Sitomeca's customers:
Payment deferred over time and better linked to the product's
depreciation
No large cash out
Advantageous interest rates
Facility is guaranteed by the Belgian Export Credit Agency and not by the customers' assests
3.
Sitomeca is always ready to leverage on its in-depth sector expertise in order to help its customers with any requests they may have.