Flat Moulds
The surface quality of the flat moulds is key to obtain a smooth Fibre Cement board.  Guaranteeing the surface quality over time, requires careful selection of steel suppliers as well as proper handling and post treatment by Sitomeca.
Description
With an additional flattening process, Sitomeca's flat moulds are produced within the narrowest possible tolerances, which considerably extends the flatness over time of the moulds.  
Quality
On top of the standard flat moulds, Sitomeca is able to supply moulds that are individually flattened.  With its special flattening equipment, Sitomeca uniformly distributes the residual tensions of the sheets.  This operation extends the flatness of the moulds over time.
Sitomeca's first class European steel suppliers contribute to its concept of total quality. The quality certificate of the steel always follows the raw material from intake up to the delivery.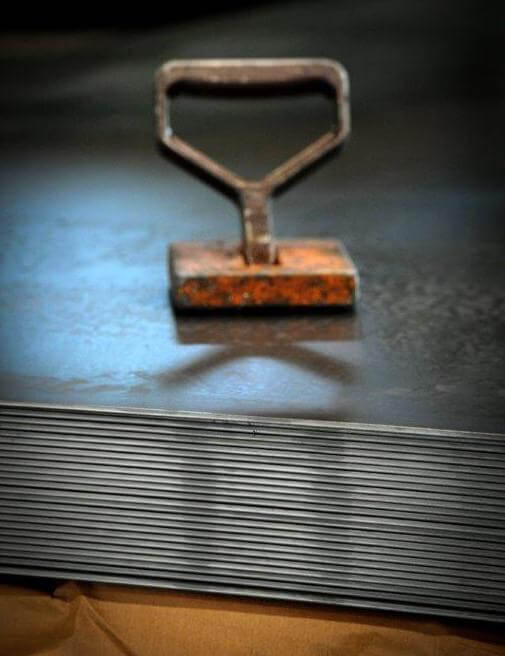 tolerances
dimensions
| | | |
| --- | --- | --- |
| Length | Max 12.000 mm | +3.0 / -0.0 mm |
| Width | Max 1.750 mm | +2.0 / -3.0 mm |
| Thickness | Max 4.0 mm | + / - 0.2 mm |
| Flatness | | 1 mm/m (only with special flattening) |
| Parrallesm | | 2 mm |
Service
Sitomeca is committed to its customers and offers the best quality service
1. Flattening
Our operators have a long experience in flattening standard steel sheets.   After decoiling, these steel sheets often present residual stresses.  By individually flattening these sheets, Sitomeca reduces the residual stresses and thereby increases the flatness of the moulds over time and thus also the flatness of the fibre cement sheets.
2. Reflattening
Sitomeca is also able to reflatten out of shape templates.   This operation is a valuable alternative to a heavior investment in new templates.
When the surface quality remains acceptable, Sitomea has reflattened its templates with ages up to 30 years.
3.
Sitomeca is always ready to leverage on its in-depth sector expertise in order to help its customers with any requests they may have.